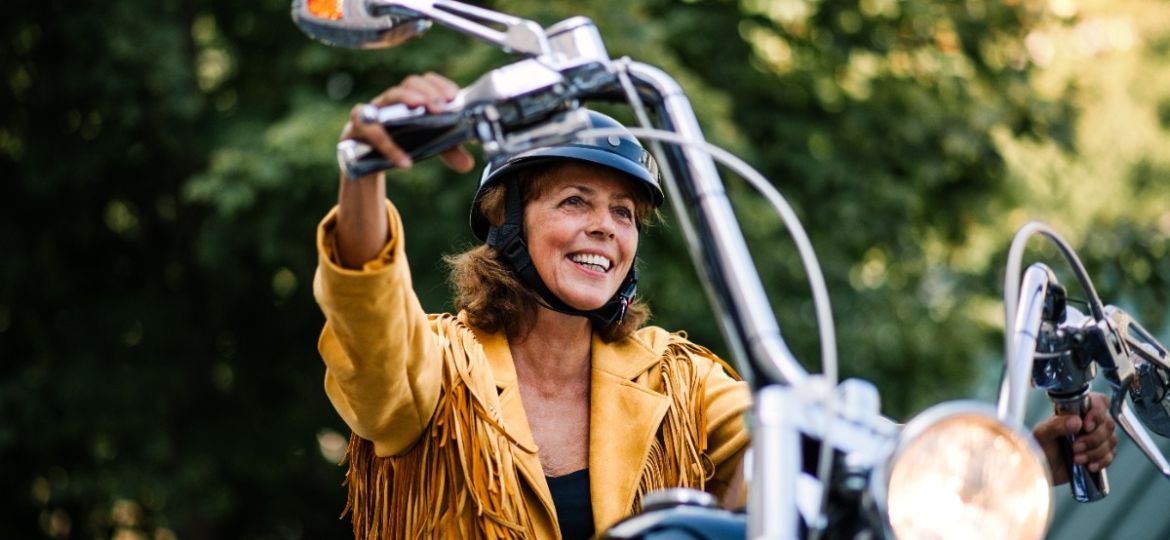 The riding demographic of both women and men share many similarities. Both genders are drawn to the excitement and liberation that comes with being on a motorcycle. However, when it comes to tapping into the female riding demographic, there are some differences that dealers should keep in mind. For more insight, Cycle Trader recently conducted a survey of women shoppers on our leading motorcycle marketplace. In this article, we're looking at how dealers can leverage these survey results to increase gender inclusivity in the motorcycle industry.
A Look at 2023 Female Rider Demographics 
In the 2023 survey, 7% of riders identified as female, but still extremely diverse, encompassing a wide variety of ages, riding motivations, and economic status. Of the women surveyed, 35% were between the ages of 18-34, demonstrating that females are beginning to ride at a relatively young age. This is a stark contrast to the 22% of men within the same age range.
Upon further examination of age demographics, we found a similar age gap among middle-aged riders. 42% of the female survey participants were between the ages of 35 and 54, compared to only 30% of the men surveyed in that age group. Most of the male consumers surveyed fell in the age range of 55-65+, making up 48% of the total, compared to only 22.5% of females in the same age range.
When marketing to customers, it's important to consider the different needs of women riders. While an approach that targets older male buyers, such as retirees, may be effective, the strategy for women should be more inclusive. Make sure to consider new riders, upgrades, and other factors that will attract a variety of age demographics. Keeping this level of diversity in mind is critical to successfully reaching and connecting with female riders.
Opportunities to Reach More Female Riders
For more insight into the purchase journey of female riders, we examined an additional Cycle Trader survey of 1,746 women shoppers from 2022. The survey revealed that female riders have faced social stigmas in their riding journey. Of note, many people still assume that most women riders are passengers only; however, the 2022 survey revealed that 75% of women riders are in fact driving their own motorcycles. This shows that despite challenges, women are still determined to get on the road and blaze trails.
In addition to being subject to stereotypes, many women struggle to find bikes that are suitable for their often-smaller frames. This is because many manufacturers have not yet released models tailored specifically for women. When selling to female customers, you can ease this pain-point by informing them about aftermarket customizations, and conducting prior research around which bikes are made for them.
 You should also keep their buying behavior and preferences in mind when it comes to reaching the female audience and getting them in the funnel. According to the 2022 survey, 40% of female motorcycle consumers prefer to communicate with dealers through email. This is similar for all other consumers. If you have a diverse set of communication channels, you're already on the right track.
The 2022 survey additionally revealed that 62% of female shoppers said they are not brand loyal and most expressed an interest in sports bikes and cruisers. This is likely due to their love of the open road and cruising around town, which are two of the top key motivations for female riders when it comes to purchasing a motorcycle. It's important to be mindful of these factors when selling to female buyers. By considering their biking motivations, you can more effectively guide them to the right brand for them.
 As the number of female bikers increases, the need for representation and marketing specifically for them does as well. Women riders are consistently showing that they are as dedicated to the riding lifestyles as their male counterparts and are helping to drive demand. By understanding the unique needs of the female riding demographic, you can more effectively tailor your strategy and offerings to meet the needs and preferences of female customers. Create an inclusive environment to ensure women riders of all paths can have a positive purchase experience. 
For more data, insights, and sales tools, make sure to check out our solutions and dealer resources at https://cycletradermediakit.com/