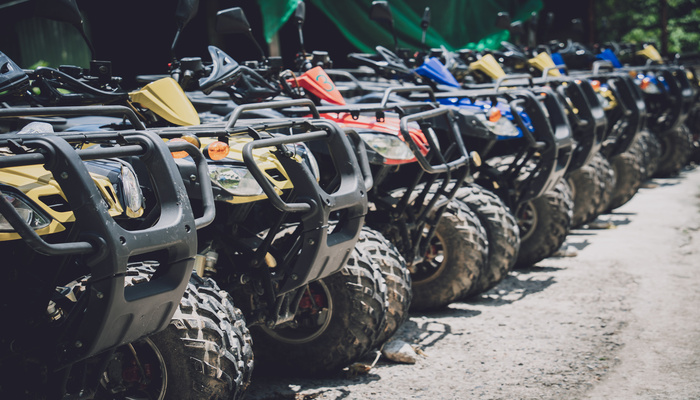 Top-Selling Models through Summer 2022
Spring and summer are peak seasons for ATV riding and, once the weather warms up, off-road enthusiasts are ready to take their ATVs out of winter hibernation to tear up the trails. For riders in search of something new, the ATV market offers countless makes and models with a variety of features and capabilities that make these machines perfect for work or play. 
Since many consumers shop for vehicles during the riding off-season, before demand increases, it's important for your dealership to understand which models might be most appealing to buyers. 
ATV Trader, an online marketplace for buying and selling off-road vehicles, has partnered with Statistical Surveys Inc. (SSI) to reveal exclusive 2022 ATV trends to better inform dealership strategies. ATV Trader and SSI are both owned by Trader Interactive, the parent company of Cycle Trader and other digital marketing brands, which allows for dynamic collaboration to collect and analyze data insights and generate actionable takeaways. Using SSI data, ATV Trader is breaking down this year's top five best selling ATV models through August 2022.
Polaris Sportsman
The Polaris Sportsman was built tough, for work and play. According to SSI registration data, this off-road vehicle series led all ATVs in 2022, from January through the summer, with 17,440 registrations. The Sportsman also ranked among the most-searched models on ATV Trader's own marketplace, with 25.7 million search results page impressions.
Polaris' Sportsman lineup features several models for consumers to choose from, including the Sportsman 570, a bestselling 4×4 with a 44 horsepower ProStar engine, and the 90-horsepower Sportsman XP, ideal for hauling and towing on the most rugged terrain. The Sportsman 450 H.O. is a reliable and affordable choice for shoppers interested in trail riding and farm work, while the larger sport utility Sportsman 850 features the battery power, horsepower, and an 11.5-inch ground clearance to tackle any job or adventure.
CFMoto CForce
CFMoto's CForce series of ATVs is the second top-selling ATV model in 2022, through August. The vehicle's 12,857 registrations are a 10% increase from 2021 sales and up 79% from 2020. The CForce series has six models in its lineup, each with hand-controlled acceleration and braking, a 3,000-pound winch, aluminum arms, and rack storage. These popular ATVs range from the mid-size 400 or 500 models to the adventurer's 1000 Overland, equipped with a 963cc V-twin engine and hard-side travel cases. Shoppers can also choose from the popular 600 and 600 Touring models, along with the smooth-riding 800 XC with two-up seating.
Honda FourTrax Rancher
The Honda FourTrax Rancher, also known as the TRX420, saw an increase in sales (7%) in the first eight months of the year with 10,792 registrations, a strong rebound for the model after dropping 30% from 2020 to 2021. This 4×4 is a popular choice for buyers, among Honda's other rec/utility ATVs, for its rugged front and rear racks and 420cc engine. This do-it-all machine has proven to be a versatile choice for off-road riders to handle any task. While the Rancher doesn't have a full suite of high-end features, consumers admire the automatic DCT transmission and a price that doesn't break the bank.
Can-Am Outlander
Can-Am's Outlander ATV is for serious off-road riders. Racking up 9,373 registrations through August 2022, this vehicle is a powerful machine. Consumers can choose from a 78 horsepower Rotax 850 V-Twin engine or a 91 horsepower Rotax 1000R V-twin engine. Either way, riders are ready for the long haul, whether that's hunting, fishing, or just getting lost on the trails. The increased storage capacity from LinQ is also a popular draw, with a variety of coolers, boxes, bags, and racks that allow Outlander owners to take everything they need on a ride.
Honda FourTrax Foreman
Also known as the TRX520, the Honda FourTrax Foreman rounds out the top five with 7,194 vehicle registrations through the summer riding season. The Foreman bounced back in sales after a 13% decline from 2020 to 2021. Already up 8% from 2021 to 2022, this longtime favorite has become a popular choice for its dependability, quality, and toughness. The Foreman's swingarm rear suspension is ideal for heavy-duty hauling and towing, while the 518cc engine delivers the horsepower and torque needed for hill climbing. Consumers also praise the Foreman's strong, flat racks that are best for attaching and removing cargo boxes.
The 2022 riding season may be coming to a close, but the time to buy a new or used ATV is just getting started. As your dealership looks to close out sales for the end of the year, and kick off sales in 2023, prioritize these top-selling ATV models to meet consumer demand.
Statistical Surveys Inc. (SSI), a trusted source for market share data, and ATV Trader are both owned by parent company, Trader Interactive. ATV Trader, a part of the Cycle Trader powersports portfolio, is the leading online marketplace where dealers and private sellers of off–road vehicles connect with an engaged audience of buyers.